World Premiere of Ocean Frontiers III – February 8th at the Virginia Aquarium
The latest in our Ocean Frontiers film series – Ocean Frontiers III: Leaders in Ocean Stewardship & the New Blue Economy – premieres on Wednesday, February 8, 2017, at the Virginia Aquarium & Marine Science Center in Virginia Beach! Join us for a spectacular evening with this truly unique and hopeful ocean film that explores the intersection of national security, marine commerce and conservation. Savor rare underwater footage of stunning marine life along the coast from Virginia to Maine and hear from a range of people who are leading the way to a sustainable and thriving ocean.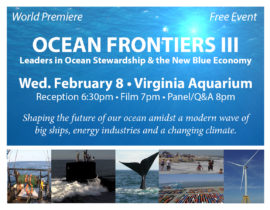 The film will be followed by a conversation about the recently-finalized Mid-Atlantic Ocean Action Plan. Our panelists, all of whom are featured in the film, will share their expertise and take questions from the audience. The panelists for this event are:
Laura McKay – Virginia Coastal Zone Management Program
Joe Atangan – U.S. Fleet Forces Command, U.S. Navy
Chris Scraba – Waterways Management, U.S. Coast Guard
Matt Gove – Surfrider Foundation
Capt. Chris Ludford – Pleasure House Oysters
Mark Swingle – Virginia Aquarium & Marine Science Center (moderator)
The event is free and open to the public. RSVP to save your seat. Don't live nearby? Invite your Virginia friends via Facebook!
Keep an eye on our calendar for upcoming film screenings currently being scheduled from Virginia to Maine.
Ocean Frontiers III is an Effective Way to Start a Dialog about Ocean Stewardship
This is a year of great change and uncertainty. It is vital for all of us to step up as ocean champions and help regional ocean planning move forward in 2017. We need to continue building support for the new Northeast and Mid-Atlantic ocean plans as they are implemented, and keep the momentum strong in the regions that are developing their plans – including the West Coast and the Pacific Islands.
It's critical to engage everyone who has an interest in our oceans: city, state and federal officials and agency staffers; tribal leaders and members; industry stakeholders; scientists; conservationists; and the millions of private citizens who rely on our oceans for income, recreation, nourishment, relaxation and oxygen! Let's initiate more conversations about how ocean planning helps us manage and balance the many uses of our oceans and keep them thriving for generations to come. Read on to see how you can use Ocean Frontiers III to educate your community about regional ocean planning.
>> To learn more about the film and the stories it contains, watch the extended trailer.
Show Ocean Frontiers III in Your Community
Film screenings can be large or small, public or private. You can show the full film or a portion of it. You can include panels and discussions, in person or by webinar. If you work for a state or federal agency, a non-profit organization, or are involved in an ocean industry, arrange a lunchtime screening for your colleagues. Already, people working at economic development, natural resources, and fishery management agencies are setting up lunchtime screenings. You can arrange a private screening for your local elected officials, Chamber of Commerce, industry group, or port officials. To gain even more traction, gather a few movers and shakers in your community, show them the film or an excerpt of it and brainstorm ideas of how to spread the message even further.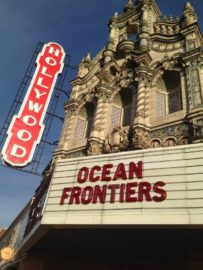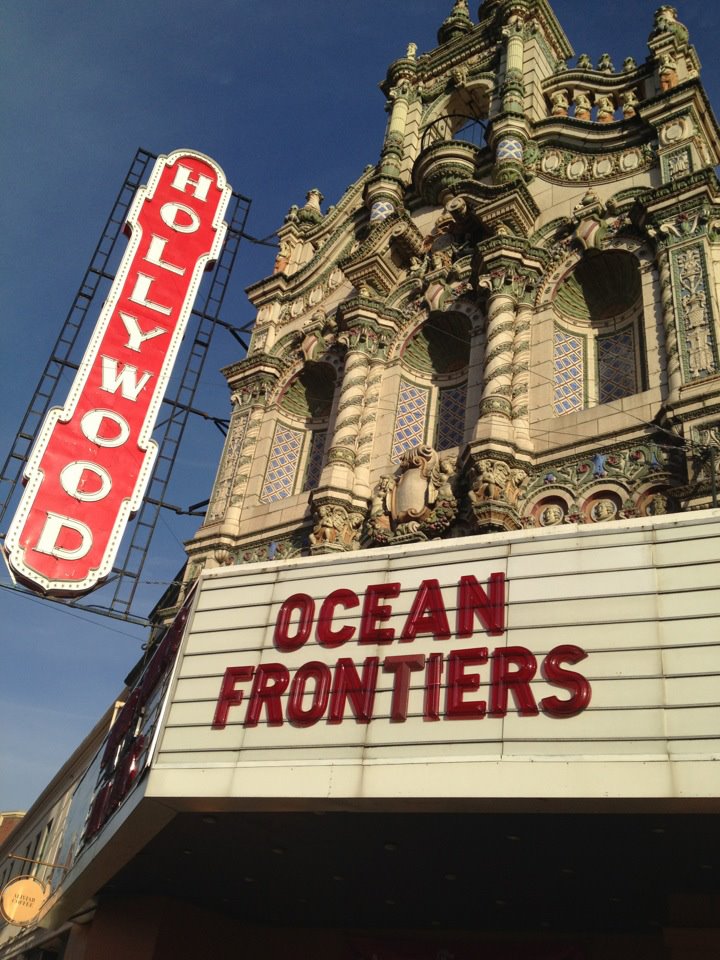 Screenings for classrooms, clubs and community groups are also very important. Show Ocean Frontiers III at a conservation meetup, for your local diving or yacht club, or the surfing community in your area.
Public events can be held at a local theater, library, church, or even a seafood restaurant! The sky's the limit. Use your imagination, find some allies and begin building support for sustainable oceans now. We make it easy for you. Just sign up to receive free downloads or DVDs and our screening toolkit.
Need some help planning your screening? We can help you shape your event, suggest speakers, answer questions about the toolkit, and more. Some stipends to cover staff time and expenses are also available. For more information, please contact Mary Kadzielski.
Thanks for all you do for the oceans!
Karen Anspacher-Meyer
Executive Director, Green Fire Productions