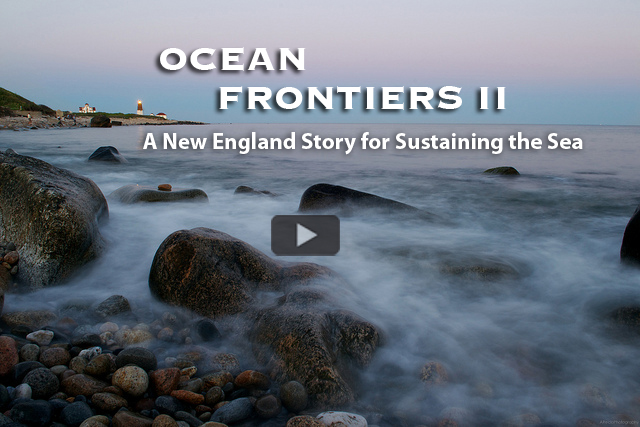 Off the shores of New England, in a region steeped in old maritime tradition, comes a modern wave of big ships, energy industries, and a changing climate, now testing the limits of an already crowded sea. But in a pioneering trial of far-sighted planning—pushed by blueprints for offshore wind energy—old residents and new are coming together to keep their ocean and livelihoods alive.
After nearly a year of work—filming, editing, talking with people and taking a critical look at ocean planning in New England—Green Fire is excited to be in the final editing stages of our new film, Ocean Frontiers II: A New England Story for Sustaining the Sea.  Check out the trailer above or at https://ocean-frontiers.org/trailer/
New England's experiences serve as an important milestone for all of us who care about the ocean.
As with the first Ocean Frontiers film, we invite you to request your free DVD to share with your community, at work, in the classroom, marine science centers and among friends. Fill out the Host-a-Screening Form and reserve your DVD today.
Upcoming Premieres: Rhode Island, Massachusetts, Connecticut and Oregon. Save the dates!
We are working with a range of organizations and agencies to host premieres beginning in late October.
Want to put on a premiere in your community? Fill out the Host-a-Screening Form. There's no charge, and the online screening toolkit makes it easy!
Providence: October 28, 2013 at the Providence Public Library
Boston: October 29, 2013 at the New England Aquarium's IMAX Theatre
Willimantic, CT: October 30, 2013 at Eastern Connecticut State University – More info soon
Brookings, OR: November 1, 2013 at the Chetco Public Library
Please join us as we premiere the new film! Share this email with your friends and follow us on Facebook and Twitter for all the latest updates.
Best regards,
Karen Meyer, Executive Director, Green Fire Productions