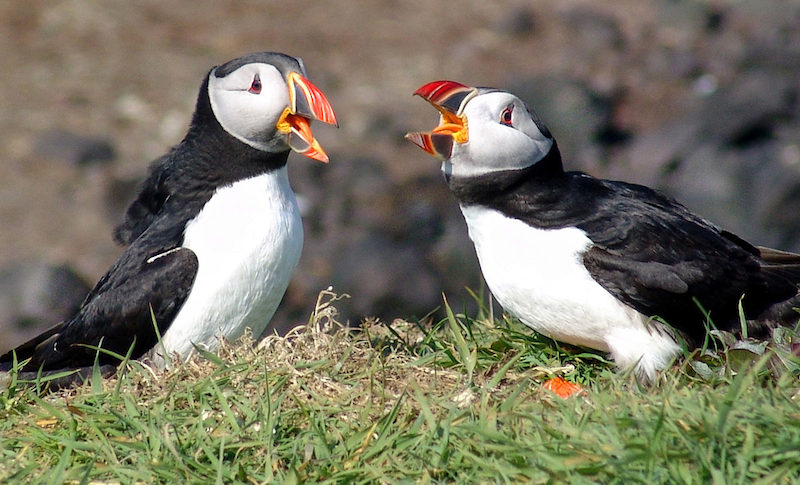 Read & Comment on the Draft Northeast Ocean Plan
The Northeast Ocean Plan has been released in draft form, which you can download at http://neoceanplanning.org/plan. Public comments are due by July 25, 2016, and everyone – including non-US residents and those outside the region – is encouraged to provide input. Comments may be submitted:
Public Meetings on the Northeast Ocean Plan
Here is the latest schedule of public meetings on the draft Northeast Ocean Plan. Be sure to check the Northeast Regional Planning Body website for any further updates. http://neoceanplanning.org/events/draft-plan-comment-meetings
Mon. June 6 in Rockland, ME – 5-8pm at the Rockland Public Library
Wed. June 8 in Old Lyme, CT – 7-9pm at the DEEP Marine District Headquarters
Mon. June 13 in Gloucester, MA – 6-8:30pm at Maritime Gloucester
Tue. June 14 in Boston, MA – 2-4:30pm at the EEA's Executive Office of Environmental Affairs
Wed. June 15 in New Bedford, MA – 6-8:30pm at the New Bedford Public Library
Mon. June 20 in Ellsworth, ME – 5-8pm at the Ellsworth Public Library
Mon. June 27 in Portsmouth, NH – 6-8:30pm at the NH DES Regional Office
Wed. June 29 in Rhode Island – 6-8:30pm (location TBD)
Thu. June 30 in Portland, ME – 5-8pm (location TBD)
Mid-Atlantic Ocean Plan Webinar – Date Tentative
In our last news post we mentioned a public webinar taking place on July 11th about the draft Mid-Atlantic Ocean Action Plan. Please note: the webinar date is TENTATIVE. Once it is confirmed it will be posted on the MARCO calendar – http://midatlanticocean.org/event-calendar. There you will also find details on the public meetings taking place in July.
June 28th Ocean Frontiers II Screening in Richmond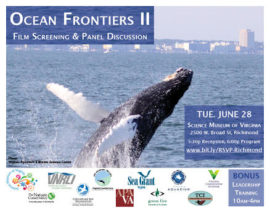 Join us for a fun and informative film & panel discussion event in The Dome at the Science Museum of Virginia. Post-film discussion with Mid-Atlantic RPB members Laura McKay (VA Coastal Zone Mgmt) and Joe Atangan (US Navy), plus Jay Odell (The Nature Conservancy) and oysterman Chris Ludford. Moderated by Tanya Denckla Cobb (VA Natural Resources Leadership Institute). Reception at 5:30pm; Film at 6:00pm. Free admission.
RSVP: http://bit.ly/RSVP-Richmond
Looking for events closer to home? Check our complete list of upcoming events at https://ocean-frontiers.org/find-a-screening.
That Wasn't a Whale Shark!
Thanks to all of you who let us know we had mislabeled the photo in our last news post. It was actually a basking shark, filmed off the coast of Maine!
Free DVDs / Connect on Facebook & Twitter
Get your own copies of the Ocean Frontiers films to share with friends, colleagues and your community. Sign up here. Click on the links below for daily news on Ocean Frontiers, important ocean news, our partners' work, and inspiring ocean videos.
Thanks for all you do!
Karen Anspacher-Meyer
Green Fire Productions