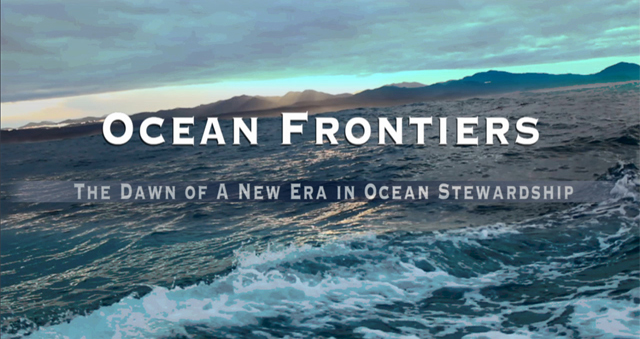 Ocean Frontiers…the name conjures up visions of explorers searching for understanding of the vast blue ocean that surrounds us. For us, the producers of this new documentary to be released in early October 2011, Ocean Frontiers symbolizes the country's inspiring ocean pioneers who are charting a new course in the rough waters of rapid change. These pioneers showcase for us a new era in ocean stewardship as they work with unlikely allies to better manage our ocean, coastal regions and Great Lakes.
Our oceans face daunting challenges, from pollution and climate change, to overfishing and other health-threatening factors. We are also using our oceans more than ever for recreation, science, natural resources, energy and national security – and these demands frequently compete with one another.
The time has come for a fresh approach, based on stewardship through cooperation. For me, this approach involves looking to those who have been down this path before, for guidance and practical solutions. As documentary producers concerned about our ocean and the many people who rely on this life-giving resource for jobs, recreation, energy and enjoyment, we scanned the country for the best examples of people implementing new approaches for ocean management.
In Boston, we found industry leaders who are collaborating with scientists to move shipping lanes and develop new technologies both to foster energy production and to reduce ship strikes on endangered whales – showing the importance of good data for effective decision making.
In the Florida Keys, we found fishermen, divers and boaters working together to alleviate a contentious situation by establishing a comprehensive ocean plan to protect their environment and their coastal economy.
Iowa's farmers, who live more than a thousand miles away from ocean shores, are changing their farming practices to help restore ocean health in the Gulf of Mexico. Meanwhile, a fishing community in Oregon is working to achieve both a healthy near-shore marine ecosystem and a sustainable fishery.
These communities are part of a blossoming movement to take better care of the ocean for the good of all. It is a movement of scientists, businesses, farmers, fishermen, governments and citizens who care for the sea.
There are many lessons to learn from these ocean pioneers. For we are all in essence ocean pioneers, steering uncharted waters in a sea of rapid change.
It will take all of us to turn the tide on the Ocean Frontiers from coast to coast — a new way of thinking, a new way of living, in concert with the sea, in consideration of those yet to come.
Now you can join us as a pioneer for the oceans. The film Ocean Frontiers provides a vision of what sustainable ocean stewardship looks like through real-life examples of what others are doing to protect our seas. Film premieres and events will roll-out over the coming year, and we'll need your help to do it!