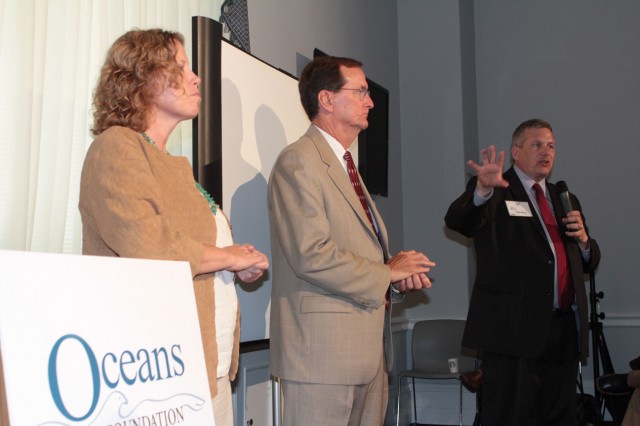 WASHINGTON, D.C. BRIEFING FOR CONGRESSIONAL STAFFERS

70 key staffers of members of Congress attended the Hill Briefing hosted by the Oceans Caucus Foundation last Friday, which featured the Iowa/Gulf of Mexico Ocean Frontiers story. This bipartisan audience was taken by the humble Iowa farmers and their inspiring work. We were honored to have Dr. Walker and Secretary Northey there to respond to questions following the film. The Oceans Caucus Foundation chose to highlight Ocean Frontiers for this important audience because of the solution-oriented stories that show unlikely allies working together and finding solutions that benefit their economic interests and the ocean. More Hill Briefings are in the works with the other Ocean Frontiers stories.
AMERICAN ASSOCIATION OF PORT AUTHORITIES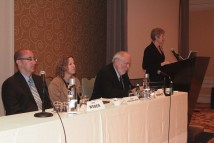 The American Association of Port Authorities invited us to present the Ocean Frontiers Stellwagen Bank story to their Harbors, Navigation and Environment seminar in San Francisco last week. 75 senior port staff and port directors attended. After the film, Deb Hadden of Massport, David Kennedy of NOAA and John Weber of the New England Regional Ocean Council took questions and gave updates on the National Ocean Policy and regional ocean planning in New England. Ocean planning is a large undertaking that has a lot of people nervous, so it was terrific to both share the story of people collaborating to shift the shipping lanes and protect endangered whales and provide an opportunity for people to learn about the National Ocean Policy.
BUILDING THE OCEAN FRONTIERS COMMUNITY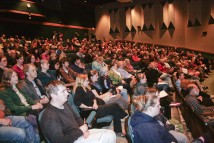 In the last few weeks people in Massachusetts, Northern California, Oregon and Washington's Puget Sound have hosted Ocean Frontiers premieres and screenings. 500 people turned out in Coos Bay, Oregon, to view the Ocean Frontiers film and hear Oregon First Lady Cylvia Hayes and State Representative Arnie Roblan speak about the importance of ocean health to our coastal communities. Largest audience yet! Thanks to everyone who helped make these events happen and for joining the Ocean Frontiers Community!

IMPORTANT! IF YOU HAVE NOT YET CONTACTED YOUR U.S. REPRESENTATIVE, PLEASE DO SO TODAY.
Some members of Congress are actively working to dismantle the National Ocean Policy. Doing so would throw away two years worth of work, investment and commitment by state governments, commercial and industrial ocean users, universities and scientists, 25 federal agencies and departments and tens of thousands of citizens across the country. Please call and email your Representative through the Capitol Hill switchboard at 202-224-3121 today. Urge your Member of Congress to "Support the National Ocean Policy and oppose any attempt to restrict implementation of the National Ocean Policy."
Finally, Ocean Frontiers events taking place this week include Huntington, New York, and Brookings, Oregon, get the details here – let your friends and colleagues know.
Thanks for all you do!
Karen Meyer & the Green Fire Productions Team