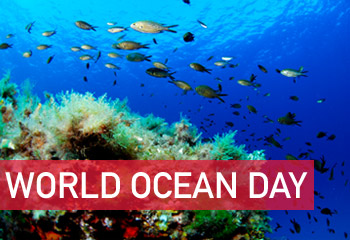 Ocean Frontiers is more than just a film, it is a outreach campaign and tool to be used to educate, inspire and mobilize a new era in ocean stewardship. And that is why we are excited to be a part of the growing, global celebration: World Oceans Day!
World Oceans Day is a day where people around the planet celebrate and honor the body of water which links us all: the OCEAN. In honor of World Oceans Day, we are asking you—the Ocean Frontiers community—to help us spread the word about Ocean Frontiers through Facebook!
Like our Ocean Frontiers Facebook page and post why World Oceans Day is important to you on our wall. Make sure to tag @World Oceans Day. On JUNE 8—World Oceans Day—we'll vote on the most impassioned response and the winner will receive a FREE, signed Ocean Frontiers DVD! 
How will connecting with Ocean Frontiers via Facebook help us achieve our goals? Simple. It will help us engage with YOU and your friends… and their friends… And by engaging online, our Ocean Frontiers community can spread—educating and inspiring more people to be a part of the new era in ocean stewardship.
Curious where the Ocean Frontiers film is screening for and around World Oceans Day? (Click on titles to find details.)
**Film Producer, Karen Anspacher-Meyer, will be on these conference panels presenting Ocean Frontiers.
Want Ocean Frontiers to screen in your community? Fill out the Host A Screening form and we'll help you get the event underway!
Thank you for being a part of the Ocean Frontiers community!
Cheers,
The Green Fire Team