FROM THE BIG APPLE TO COASTAL MAINE – OCEAN FRONTIERS III ON THE ROAD
The Ocean Frontiers III road show continues, with two memorable stops earlier this month: New York City and Rockland, Maine. Though one event was in a major city and the other in a small coastal community, the concerns voiced by audience members were surprisingly similar – people want their oceans to be healthy and full of vibrant marine life. They also want to see sustainable fisheries and they certainly want to have a say as critical decisions about the future of our oceans are being made.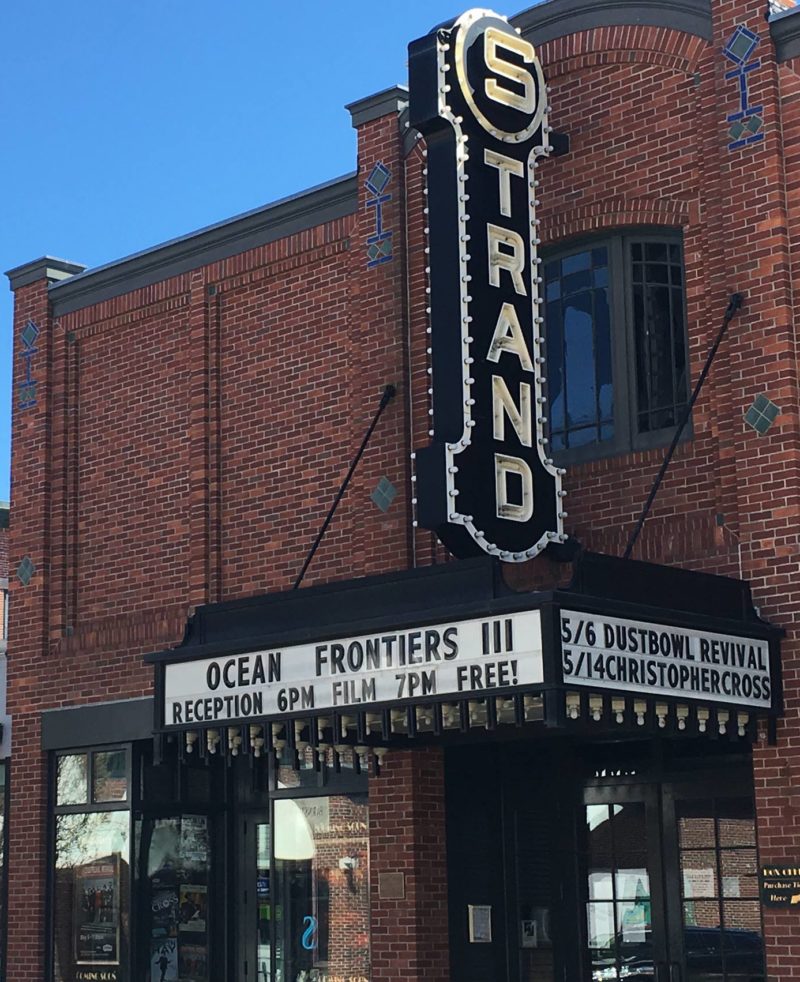 The New York premiere took place at the state-of-the-art NYIT Auditorium on Broadway with a wonderful reception before the film. Several co-hosts were on hand with informational displays and handouts, and there was much mingling and networking! It was great to see a staffer from Rep. Maloney's office rubbing elbows with both industry leaders and conservationists. A few lucky attendees got a big surprise when they found free whale watching tour tickets under their seats, provided by Gotham Whale and American Princess Cruises.
A wide-ranging discussion took place after the film, with panelists from a variety
of sectors fielding questions from the audience and from moderator Jon Dohlin of the New York Aquarium. Though they have their differences, the panelists all expressed gratitude for the opportunities that ocean planning, and events like this, provide for a range of voices to be heard and for greater understanding to be achieved.
The following night we were in Rockland, Maine, for a screening at the historic Strand Theatre – a classic movie house with all the trimmings, and a bar upstairs that was very active during the reception! The post-film panel was comprised of people featured in the film, and the audience seemed to really enjoy seeing their fellow Mainers both up on the screen and in front of them to answer questions about how the ocean planning process may help their coasts and livelihoods. All told it was a great week of screenings, with many more cross-sector connections forged and a strengthening of the web that supports sustainable ocean stewardship.
BLUE VISION SUMMIT & PETER BENCHLEY OCEAN AWARDS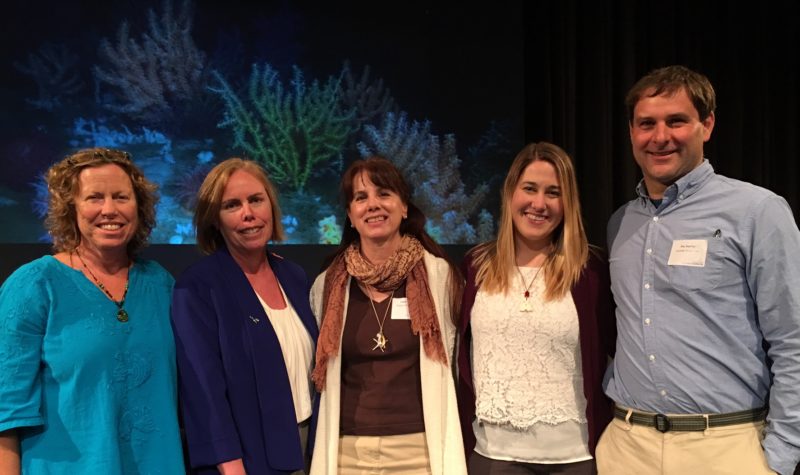 Earlier this month, ocean and coastal advocates met at the Blue Vision Summit in Washington, D.C., to discuss solutions to some of the ocean's toughest challenges. We were honored to be joined by ocean planning leaders from across the country to talk about implementing the nation's first ocean plans and share short clips of Ocean Frontiers III with summit participants.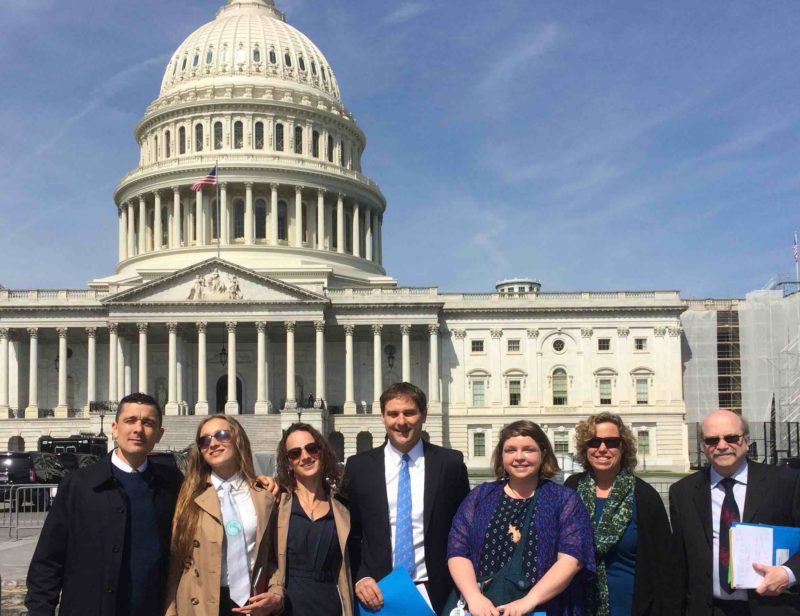 The following day, 175 people representing 27 states – the largest citizen lobby for the ocean ever – took to Capitol Hill for the Healthy Oceans Hill Day to voice support for ocean conservation. Together people held more than 150 meetings with their members of Congress to advocate for ocean conservation issues including reducing plastic pollution, stopping new offshore oil & gas exploration & drilling, and supporting the budgets of ocean agencies that work on ocean planning.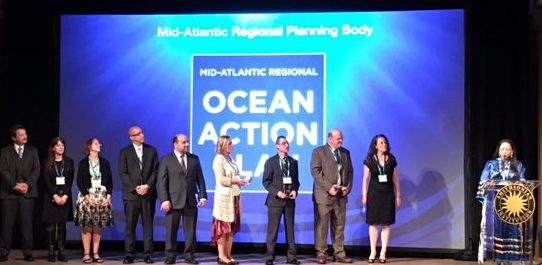 Wrapping up the summit, the prestigious Peter Benchley Ocean Award for Excellence in Solutions was awarded to the Northeast Regional Planning Body, Mid-Atlantic Regional Planning Body and the Rhode Island Ocean SAMP planning team. Congratulations!
HOST A SCREENING FOR WORLD OCEANS DAY

World Oceans Day is June 8th. Do you have a plan? Consider hosting a screening of Ocean Frontiers III for your friends, family, colleagues and community. You can keep it simple with an in-home event or at work lunch screening or make it public by inviting your community to join you at a local library or school. Whether you want to host a big or small event, we make our films available to you at no cost. We want to get the word out about ocean planning, equip you with the knowledge you need to be engaged in the planning process and be inspired by the collaborative and inclusive nature of ocean planning. Get started today by signing up to host a screening. We'll provide everything you need and can assist you along the way.
UPCOMING PREMIERES & SCREENINGS
Check out our calendar of upcoming screenings for more information on these dates!
June 5 – Asbury Park, NJ – Ocean Frontiers III excerpt at World Oceans Week Celebration
June 8 – Asbury Park, NJ – Ocean Frontiers III excerpts at Beach Party for Big Blue
June 29 – Block Island, RI – Ocean Frontiers III screening
July 13 – Narragansett, RI – Ocean Frontiers III screening
October 19 – Wells, ME – Ocean Frontiers III screening
More dates are being added all the time and you can add one, too, by signing up to host your own.

TAKE ACTION

Great news – our collective efforts have paid off! Everyone who took action by signing petitions and calling their members of Congress about the proposed funding cuts to coastal programs made a real impact. The recently passed 2017 federal budget safeguards many existing programs we depend on for healthy oceans. Unfortunately, the Administration's proposed 2018 budget is a disaster for the oceans, so we will all need to make our voices heard once again in the halls of Congress. We will keep you informed as the 2018 budget process unfolds. Find out more from our friends at Ocean Conservancy.

OCEAN PLANNING EVENTS
Northeast
Keep up with the Northeast Regional Planning Body (RPB) at http://neoceanplanning.org.
May 24: Regional Planning Body meeting (open to the public) will be held in Gloucester, MA, at the National Marine Fisheries Service Greater Atlantic Region office. For additional information and to register, click here.
Mid-Atlantic
The Mid-Atlantic Regional Planning Body meeting schedule and updates can be found at https://www.boem.gov/MidA-New. Looking forward to seeing some of you at the June 20th public RPB meeting!
June 5: Social Marketing Overview for Mid-Atlantic Managers Working to Reduce Marine Debris Webinar at 8:30-10:30 a.m., hosted by Virginia CZM Program; for information contact Laura McKay.
June 7: MidA RPB Marine Debris Reduction Workshop will be held at the VA Department of Environmental Quality. Space is limited so be sure to register.
June 19-20: MidA RPB Healthy Ocean Indicators Workshop – Location, agenda, and additional information to come. Check the MidA RPB website for current information.
June 20: MidA RPB In-Person Public Meeting at NOAA Science Center, Silver Spring, MD. For more information, click here.
West Coast
Keep up with the West Coast Regional Planning Body's news and events at http://www.westcoastmarineplanning.org/.
Thanks for all you do for the oceans!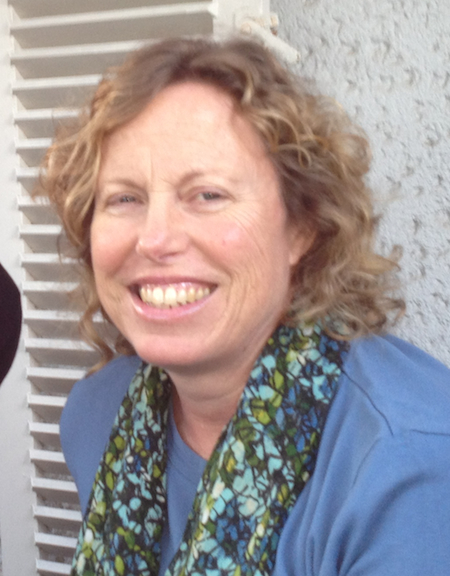 Karen Anspacher-Meyer
Executive Director, Green Fire Productions