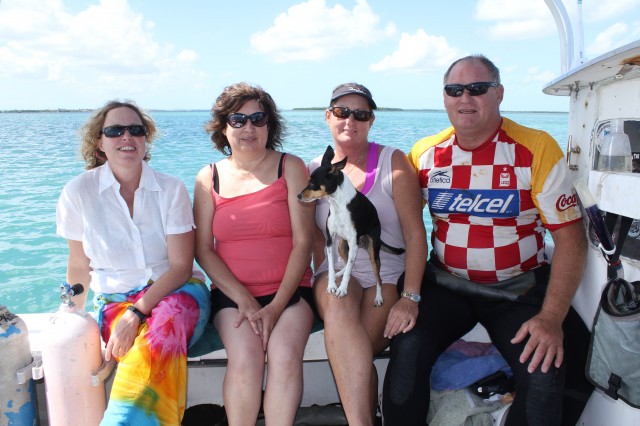 Leesa Cobb of Port Orford Travels to the Florida Keys with the Filmmakers to Meet with Fishermen to Research Sustainable Fishing Businesses

After an invigorating two days of Ocean Frontiers events in California at the Aquarium of the Pacific, next week we are off to three Ocean Frontiers film premieres on the East Coast — Boston, Rhode Island and New Jersey.
Last weekend, the Florida Keys National Marine Sanctuary hosted a special Ocean Frontiers premiere event in Key West.  Billy Causey, who you will remember from the film as the charismatic leader who brought sport fishermen, divers, commercial fishermen, and the public together around protecting the coral reefs in the Keys to ensure shared and sustainable use of the natural resources,  kicked off the premiere, thanking Green Fire for producing a "timely and important film."
It was a terrific audience of natural resource managers, sport and commercial fisherman, charter boat captains, tropical fish collectors and media who watched the film and then discussed their next challenge: revising the marine zones set in place more than a decade ago. The focus was on how everyone in the audience can reach out to their networks to engage people in this next step in managing the Florida Keys National Marine Sanctuary.
Intrigued by what she saw in Ocean Frontiers about the Florida Keys, Leesa Cobb, director of the Port Orford Ocean Resource Team, joined us for the trip to meet with a number of fishermen and learn first hand how it is to run a fishing business within a National Marine Sanctuary. Every fisherman we spoke with, without exception, assured Leesa that the Sanctuary benefits their businesses. Here's a few photos from the Ocean Frontiers Florida Keys trip.
"The Sanctuary protects the marine habitat that produces our fisheries and our income," relayed Jeff Cramer, a stone crab and lobster fisherman of the Florida Keys Commercial Fishermen's Association. "At the beginning we looked at the Sanctuary as a scary thing. Some people sold their boats, thinking it was the end of fishing. But today fishing is the second largest driver of the Keys economy, second only to tourism."
Steve Leopold, Florida Keys charterboat Captain of 21 years, said, "The Sanctuary Advisory Council is the key. It provides a forum for everyone to provide input, we listen to each other, our advice is incorporated into management decisions, and we develop relationships that are built on trust. As environmental changes arise in our waters, we will be able to address them head on."
Leah Gould, Florida Keys Marine Life, who supplies the aquarium market with tropical fish and marine life, showed us her operation and took us out on a collection dive. Leah shared, "By including all of the 'user groups' at the table you get much better decisions about protecting the resources that we depend on for business. There are always going to be arguments but if everyone is at the table and able to discuss and decide together, we'll come up with sustainable solutions that benefit everyone."
Leesa Cobb left with a strong positive impression about the National Marine Sanctuary. "These were some pretty astonishing testimonies that I heard here. I expected to hear pros and cons about living and working within a Sanctuary, but all I heard was how positive and beneficial the Sanctuary is for people who make their living on the water."
Thanks to the Keys fishermen who took time out of their busy days to meet with us. And special thanks to Leah and Phil for the wonderful day on the water and dinner of stone crab and lobster!
Karen Meyer
Executive Director, Green Fire Productions