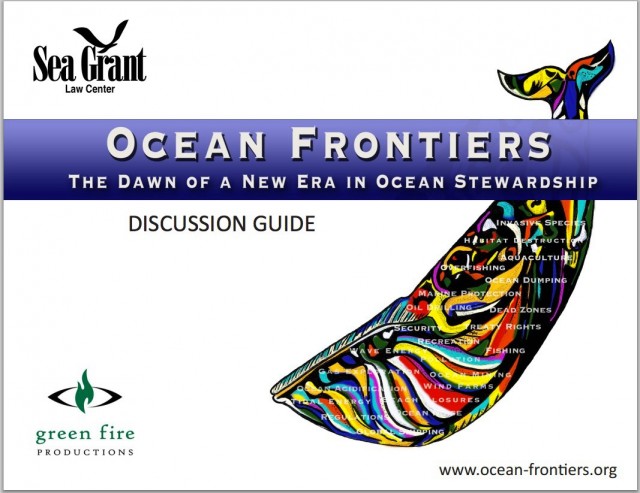 Last week had many people heading back to school, both students and teachers alike, and we hope you'll find this update quite timely. We are excited to announce that Discussion/Study Guides for the Ocean Frontiers film are now available for educators at the middle/high school and university levels.
The university-level Discussion Guide was developed by the National Sea Grant Law Center with the assistance of Vermont Law School Environmental Law Society. This Discussion Guide was developed to help professors incorporate Ocean Frontiers into the classroom.  The Sea Grant Law Center describes Ocean Frontiers as "an ideal communication tool to help audiences understand key principles of ecosystem-based management and coastal and marine spatial planning. These complex topics come to life and are easy to grasp through the stories and people featured in Ocean Frontiers."
The Educator's Resource Guide for middle/high school teachers was produced by the  Cooperative Institute for Research in Environmental Sciences and Colorado Ocean Coalition member Emily Kellagher. This Educator's Guide is designed to help teachers blend the four stories within Ocean Frontiers into their curriculum and expose students to positive examples of conservation and complementary science concepts.
To download the Guides, simply visit: www.ocean-frontiers.org/discussion-guides. Need an Ocean Frontiers DVD to accompany your Discussion Guide? Please fill out the Host A Screening form, and we'll send you one for free along with other helpful materials. Please share the news with ocean educators.
 Special Upcoming Premieres in California:
Bay Area Film Premiere – Thursday, September 13, 2012
In San Francisco at the Aquarium of the Bay, in partnership with the San Francisco International Ocean Film Festival. Includes reception and post-film Q & A. For more info: http://www.oceanfilmfest.org/
Monterey Community Premiere – Sunday, September 23, 2012
More than 20 organizations representing the region's agriculture, recreation, conservation, business, education, and community are co-hosting this special event. Elected leaders will welcome the audience. The film and post-film Q & A will be followed by a reception featuring sustainable seafood and wine from the Central Coast. For more info: https://ocean-frontiers.org/monterey/
Cheers,
Karen Anspacher-Meyer and the Ocean Frontiers Team