Join us for the Delaware premiere of Ocean Frontiers II, followed by a panel discussion and audience Q & A. In a region steeped in old maritime tradition, the film tells the story of a modern wave of big ships, energy industries and a changing climate, and how people are coming together to plan for a healthy ocean off their coast.

Ocean Frontiers II Screening and Panel Discussion
When: Thursday, April 9, 2015; 6:30pm – 8:30pm
Where: Movies at Midway, 18585 Coastal Highway, Rehoboth Beach, DE 19971 (map)
~ event takes place in the upstairs screening room
Free admission & snacks. RSVP to bit.ly/OF2Del or via Facebook to save your seat!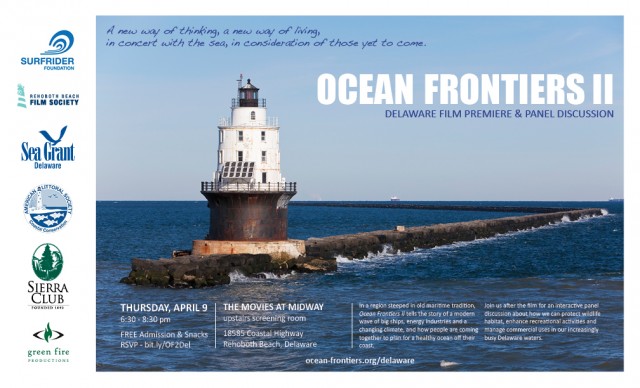 An interactive panel discussion takes place after the film, with:
Sarah Cooksey – Delaware Department of Natural Resources and Mid-Atlantic Regional Planning Body member
Capt. Stephen Roberts – Pilots' Asso. for the Bay & River Delaware
Matt Oliver – School of Marine Science and Policy, University of Delaware
Matt Gove – Surfrider Foundation
Moderator: Arlo Hemphill – Mid-Atlantic Regional Council on the Ocean
Come learn about regional ocean planning efforts underway and how we can protect wildlife habitat, enhance recreational activities and manage commercial uses in our increasingly busy Delaware waters.

This event is hosted by Surfrider Foundation and Green Fire Productions, with co-hosts Rehoboth Beach Film Society, Delaware Sea Grant, American Littoral Society and the Delaware Chapter of the Sierra Club.
Watch the trailer