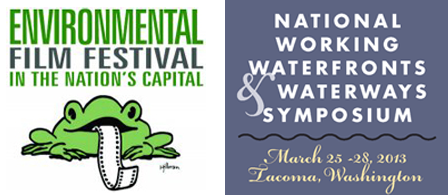 We are excited to announce that this March, Ocean Frontiers will be making appearances at two noteworthy events: the 2013 Environmental Film Festival in the Nation's Capital and the 2013 National Working Waterfronts & Waterways Symposium in Tacoma, WA. We hope you will join us and share the invitations with your members, colleagues and friends.
The Environmental Film Festival in the Nation's Capital has become one of the world's largest and most influential showcases of environmental film and a major collaborative cultural event in Washington, D.C.
The National Working Waterfronts & Waterways Symposium will provide a forum for diverse users to meet, address common dilemmas and share solutions. This collaborative problem-solving approach promises to provide unique and innovative approaches to address water access needs, using examples of success from various Pacific Northwest and West Coast communities.
Introduced by: Daniel J. Basta, Director, Office of National Marine Sanctuaries, NOAA
Saturday, March 16, 2013, 1:45-3:05pm
National Museum of Natural History, Baird Auditorium
10th & Constitution Ave, NW, Washington, DC (Metro: Federal Triangle or Smithsonian)
Free and open to the public
(Two other films, The Last Ocean & Planet Ocean will screen along with Ocean Frontiers, starting at 12pm)
Hosted by: West Coast Governors Alliance on Ocean Health, Washington Sea Grant & Green Fire Productions
Monday, March 25, 2013, 6:45-9pm
UW Tacoma, Philip Hall, 1918 Pacific Ave., Tacoma, WA
Tickets – $6, Students $4 and free for Symposium registrants 
Please purchase tickets in advance
Includes reception, film and Q&A with a panel of experts to follow
Moderator: 
Katrina Lassiter, Aquatic Policy Analyst, Department of Natural Resources
Panelists:
Angie Fredrickson, Seaport Liaison & Research Analyst, Port of Seattle

Leesa Cobb, Executive Director, Port Orford Ocean Resource Team

Paul Dye, Marine Program Director, The Nature Conservancy

Jacque Hostler, Cher-Ae Heights Indian Community of the Trinidad Rancheria
You can see a full list of upcoming Ocean Frontiers events here. And if you'd like to bring the film to your community or workplace, please visit our Host a Screening page.
You can forward this email to a friend below.
Best regards,
Karen Meyer & the Ocean Frontiers Team