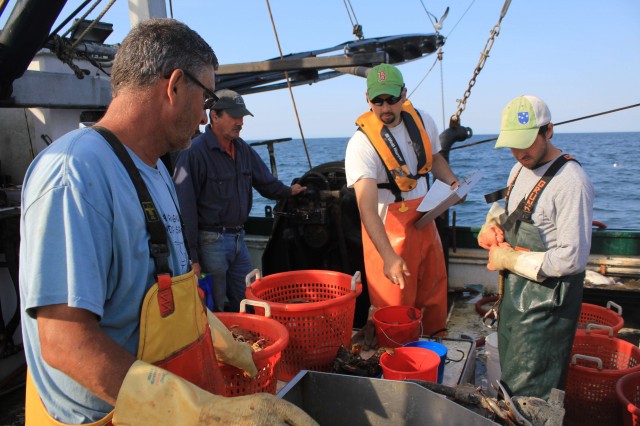 Complex Ocean Demands Collaboration
The premieres of the film Ocean Frontiers II: A New England Story for Sustaining the Sea showcased new, inspiring stories of collaborative ocean planning.  The second in the award-winning film series, Ocean Frontiers II features historic and emerging ocean uses of New England waters, introduces viewers to the Northeast regional ocean planning initiative, and focuses on Rhode Island, the Ocean state that has set the "gold standard" for marine spatial planning. Special thanks to our many co-hosts, wonderful post-film panels, terrific audiences and venues: New England Aquarium, Providence Public Library, Eastern Connecticut State University and the Chetco Public Library. To obtain your DVD, see below.
Rhode Island Senators Whitehouse and Reed provided comments for the Providence audience. "This film shares the great history of ocean stewardship in New England and highlights the tremendous leadership Rhode Island has demonstrated in promoting healthy oceans and vibrant coastal economies through comprehensive and collaborative ocean planning," said Sen. Jack Reed, in his remarks taped for the premiere.
High caliber post-film Q&As including offshore wind energy leaders, State and Federal Regional Planning Body co-leads, fishermen, Conservation Law Foundation, and SeaPlan made for engaging discussions after the film.
"Ocean Frontiers II did a great job of capturing the reality of the complexity of the process, but also that collaboration and participation is key. It dealt honestly with the conflicts that can occur, the suspicion
at the start, the value of participation, and the importance of trust and transparency in the process."
Christopher Tompsett, U.S. Navy
Purchase Ocean Frontiers II DVDs online. Or sign up to host a screening, and we will send you a free DVD and screening toolkit. Share this new film with your colleagues, friends and your community – from large event to small, we'll help get you on your way!
Find a screening near you – or check out some of the press coverage here: Brown Daily Herald & Eco RI News.
Thanks for all you do!
Karen Anspacher-Meyer, Executive Director, Green Fire Productions