Drum roll, please! Ocean Frontiers III is nearing completion and will begin screening in February 2017. We've traveled extensively along the Eastern seaboard; from the U.S. Coast Guard and Navy bases in Hampton Roads, Virginia, to a one-room island school house off the Maine coast, and many points in between, to interview key leaders in the ocean planning effort.
The ocean planning process has opened a window to show us what is possible when people with different interests work together to achieve a common goal. In this case, the goal is ocean stewardship and growing our blue economy through the Northeast and Mid-Atlantic ocean plans.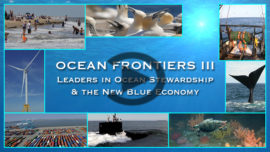 Ocean Frontiers III: Leaders in Ocean Stewardship & the New Blue Economy is a powerful film that chronicles our efforts to plan for a healthy, safe, sustainable future. It's a compelling combination looking at the intersection of national security, maritime commerce, fishing, and recreation, plus expanding industries such as offshore wind energy and aquaculture, coupled with scientific exploration and discovery. Watch the trailer
Show Ocean Frontiers III in Your Community!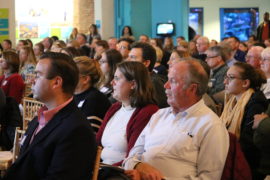 As the new ocean plans move toward implementation, help build momentum and public support by setting up a screening of Ocean Frontiers III in 2017. Show the film in your community – at a monthly meetup, at your local library, at a lunchtime screening in your office, and in the classroom. Now more than ever we need to share these inspiring stories of our leaders who are reaching out across sectors to work together for the sake of our ocean and ocean economies. Sign up to pre-order the film.
OCEAN FRONTIERS III SNEAK PREVIEW AT RESTORE AMERICA'S ESTUARIES and THE COASTAL SOCIETY SUMMIT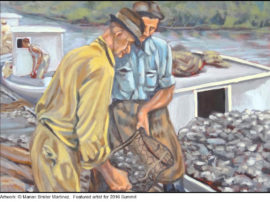 We are hosting a special preview of segments from Ocean Frontiers III at the Restore America's Estuaries and The Coastal Society Summit in New Orleans on December 13th, 10:30am-noon. Join us there to watch the new film and hear ocean planning leaders discuss implementation of the Northeast and Mid-Atlantic ocean plans.
NORTHEAST AND MID-ATLANTIC OCEAN PLANS READY TO BE IMPLEMENTED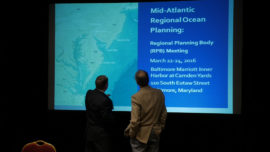 It's official, the Northeast and Mid-Atlantic ocean plans have been finalized and are ready to be put to use. From Maine to Virginia, and seaward 200 miles, an unprecedented collaboration of state and federal agencies and Native American tribes are now working with new ocean data and extensive stakeholder input to keep national security strong, the economy growing, and to protect vital ocean habitat.
At the foundation of each ocean plan is the latest information on uses of the sea, gathered in one place and readily available to all—a one-stop shop known as the regional data portals. More than 5,000 data layers are now in one place, bringing together the most current information on shipping, national security, fishing, marine life and habitats, recreation, as well as aquaculture and wind energy, to name a few. Visit the Northeast Ocean Data Portal and the Mid-Atlantic Ocean Data Portal.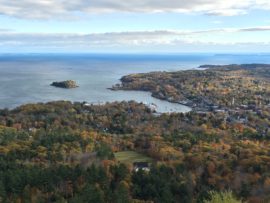 Through the Ocean Frontiers film series we have followed ocean planning in North America from its early days. We interviewed ocean planning pioneers from across the U.S. and Canada, and witnessed the first state ocean plans help reduce impacts on endangered whales and reduce conflict among stakeholders. In the quest for healthy oceans, robust ocean economies, and a sustainable future, the ocean plans represent an important step forward in how we make decisions about our oceans. You can learn more about the ocean plans by visiting their websites: Northeast Ocean Plan and Mid-Atlantic Regional Ocean Action Plan.
Public involvement remains a critical component. We will continue to share updates as the ocean plans are implemented.
Thanks for all you do for the oceans!
Karen Anspacher-Meyer
Executive Director, Green Fire Productions