Join us for a special screening of Ocean Frontiers II at Old Dominion University, followed by a Q & A with a panel of local experts. Come learn about the draft Mid-Atlantic Regional Ocean Plan – being released for public review this spring – and how we can help sustain the ocean environment, marine livelihoods and coastal cultures in our increasingly busy Virginia waters.
Ocean Frontiers II Screening and Panel Discussion
When: Tuesday, February 23, 2016; 6:00pm – 8:00pm
Where: Old Dominion University Theatre, 4608 Hampton Blvd., Norfolk, VA 23529
Free parking across the street in Garage D
Free admission & free refreshments
RSVP to http://bit.ly/OF2Norfolk to save your seat.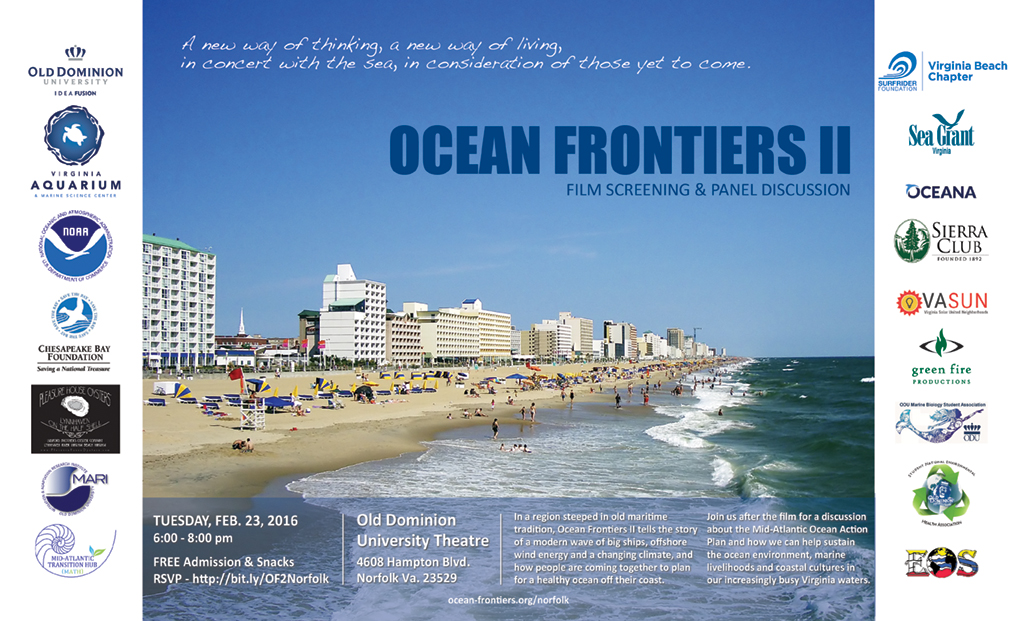 An interactive panel discussion takes place after the film, with:
Laura McKay – Program Manager, Virginia Coastal Zone Management Program; Mid-Atlantic Regional Planning Body Member
Joe Atangan – Physical Scientist, U.S. Fleet Forces Command, U.S. Navy; Mid-Atlantic Regional Planning Body Member
Capt. Chris Ludford – Owner, Pleasure House Oysters
Matt Gove – Mid-Atlantic Policy Manager, Surfrider Foundation
Moderator: Gwen Lockhart – 

GIS Research Specialist

,

Virginia Aquarium and Marine Science Center
This event is hosted by Old Dominion University, Virginia Sea Grant, Chesapeake Bay Foundation, Virginia Aquarium & Marine Science Center, Surfrider Foundation, National Oceanic and Atmospheric Administration, Oceana, Virginia Chapter Sierra Club, VA Sun, Mitigation & Adaptation Research Institute (MARI), ODU Marine Biology Student Association, ODU Earth and Ocean Sciences Club, ODU Student National Environmental Health Association, Mid-Atlantic Regional Transition Hub and Green Fire Productions.
In a region steeped in old maritime tradition, Ocean Frontiers II tells the story of a modern wave of big ships, offshore wind energy and a changing climate, and how people are coming together to plan for a healthy ocean off their coast.