Released in February 2017, Ocean Frontiers III: Leaders in Ocean Stewardship & the New Blue Economy spotlights the United States' first-ever regional ocean plans in the Northeast and Mid-Atlantic.
The film premiered on February 8, 2017 at the Virginia Aquarium and Marine Science Center in Virginia Beach, VA. Find out about other public screenings of the film on the Ocean Frontiers calendar. Sign up now to order the film so you can host your own screening in your community, at work or in the classroom!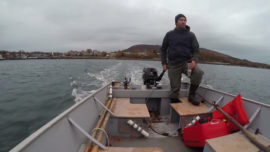 Ocean Frontiers III: Leaders in Ocean Stewardship & the New Blue Economy is a powerful film that chronicles our efforts to plan for a healthy, safe, and sustainable future. It explores the intersection of national security, maritime commerce, fishing, and recreation, plus expanding industries such as offshore wind energy and aquaculture, coupled with scientific discovery. The film tells the story of how ocean planning helps us manage and balance all the uses of our ocean to keep it thriving for generations to come.
From the film: Monumental changes are coming to America, by way of the sea. They come by way of larger vessels and heavier maritime traffic shipping the nation's cargo. They come by expanding forays into offshore energy and aquaculture. They come by the heightened urgency to restore and protect coastlines and ocean habitats. And from the mounting needs of our armed forces to defend them all. From Maine to Virginia, seaward 200 miles, an unprecedented collaboration of state and federal agencies and Native American tribes are working with new ocean data and extensive stakeholder input to keep national security strong, the economy growing, and to protect vital ocean habitat.
Watch this 10-minute excerpt from Ocean Frontiers III: