Join us for a special screening of Ocean Frontiers II at Monmouth University in New Jersey, followed by a panel discussion and audience Q & A. In a region steeped in old maritime tradition, the film tells the story of a modern wave of big ships, energy industries and a changing climate, and how people are coming together to plan for a healthy ocean off their coast.
Ocean Frontiers II Screening and Panel Discussion
When: Tuesday, April 21, 2015; 6:00pm – 8:00pm
Where: Monmouth University, 400 Cedar Avenue, West Long Branch, NJ 07764 (map) Young Auditorium at the Leon Hess Business School in Bey Hall. Free parking – use lots 13, 14 or 15 (from Larchwood Ave., turn onto Scholar's Way Lake Rd.)
Free admission & refreshments
RSVP to bit.ly/OF2-Mon or via Facebook to save your seat.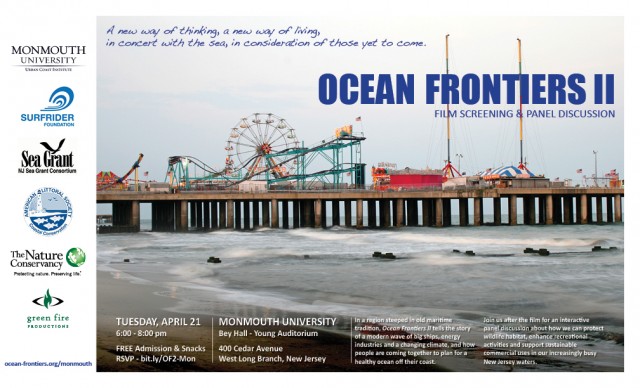 An interactive panel discussion takes place after the film, with:
Liz Semple – Manager, Office of Coastal and Land Use Planning, New Jersey Dept. of Environmental Protection
Tom Fote – Commissioner, Atlantic States Marine Fisheries Commission and Legislative Chair, Jersey Coast Anglers Association
Kevin Pearce – President & Principal Engineer, Green Sail Energy
Tim Dillingham – Executive Director, American Littoral Society
Ronald Rapp – Director, TE SubCom
Moderator: Tony MacDonald – Director, Urban Coast Institute
Come learn about regional ocean planning efforts underway and how we can protect wildlife habitat, enhance recreational activities and support sustainable commercial uses in our increasingly busy New Jersey waters.
This event is hosted by Monmouth University's Urban Coast Institute, Surfrider Foundation, New Jersey Sea Grant, American Littoral Society, New Jersey Chapter of The Nature Conservancy and Green Fire Productions.
Watch the trailer