Washington, DC Premiere
Thursday, July 26, 2012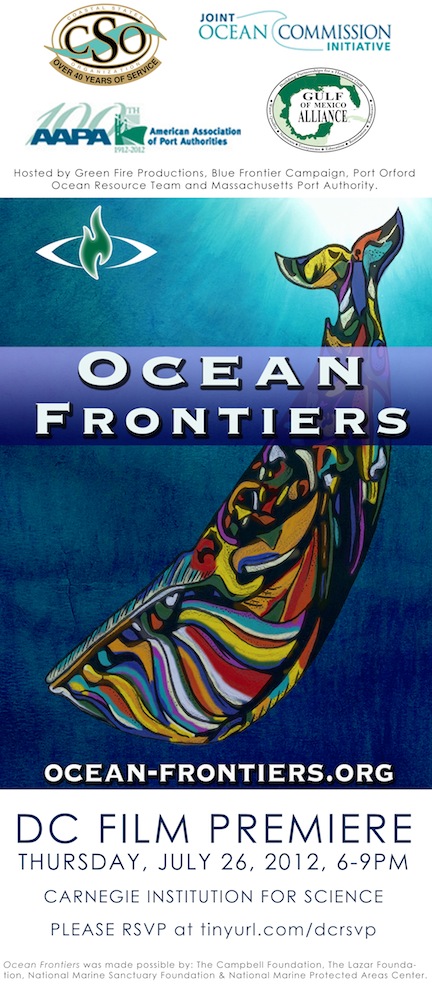 6:00-9:00PM

includes welcome reception and post-film panel, moderated by the Washington Post's Juliet Eilperin, featuring the filmmaker and people in the film.

Carnegie Institution for Science
1530 P Street, NW
Washington, DC
The event is free & open to the public.
Please RSVP at http://tinyurl.com/dcrsvp
Come celebrate today's ocean pioneers who are leading the way in ocean conservation and management, providing living proof that economic stability and ecological sustainability can and should go hand in hand.
Ocean Frontiers is an inspiring voyage to seaports and watersheds across the country where unlikely allies—pig farmers, industrial shippers, scientists, fishermen and conservationists—are working together to sustain the sea and our ocean economies.
From Boston Harbor, where authorities are adjusting shipping lanes to protect endangered whales; to Iowa, where famers are altering their farming practices to minimize their impact to the Gulf of Mexico or to Oregon and the Florida Keys where fishermen are working together to protect marine habitats, Ocean Frontiers is an exploration of a new era in ocean stewardship.
For more information contact Karen Meyer, Executive Director, Green Fire Productions
karen@greenfireproductions.org or 503-709-5467
Post-film panel for Q&A:
Leesa Cobb, Director, Port Orford Ocean Resource Team
John Oliver, Senior Ocean Policy Advisor for the US Coast Guard and represents the Coast Guard and Department of Homeland Security on the National Ocean Council
Ben Scaggs, Director, EPA Gulf of Mexico Program
Rick Sheckells, Seaport consultant & Port of Baltimore
Karen Meyer, Director, Green Fire Productions & producer of Ocean Frontiers